Slim Wooden Phone Case (Sawtooth Mountains Bamboo Sky)
customers are viewing this product

Ultra Slim Wooden Phone Case (Sawtooth Mountains Traveler Bamboo Sky)
All WUDN Wooden iPhone Cases are now updated to include the iPhone 14 Family including the iPhone 14, iPhone 14 Plus, iPhone 14 Pro and iPhone 14 Pro Max.

And All iPhone 12, 13 & 14 Cases include Optional MagSafe Compatibility.
It's not often we are truly inspired by a place. The Sawtooth Mountains in Idaho is one of those places. Part of the Rocky Mountains in central Idaho reaching 10,751 feet at the summit of Thompson Peak. Read More>>
Wooden Phone Case Features:
Sleek, thin, and lightweight design fits your 

iPhone 

perfectly 

Real wood & eco-friendly TPU construction

Polycarbonate impact-resistant corners for maximum protection

SureGrip textured sides for maximum holding safety

Always unique wood color, tone and grain; every case is unique 

Snap-on application for quick & easy installation

Large speaker, camera and cable openings

All phone models are available in Mahogany, Black Walnut, Aromatic Cedar, Caramelized Bamboo, Purple Heart or Shimmering Maple wood finish

This is the perfect wooden case for your iPhone or Galaxy Galaxy.
A Style As Unique As You Are
Your style is your own; shouldn't your Phone case be your own too? Every Phone case from WUDN uses 100% real wood, hand selected by our team for premium cut and quality to make sure no two WUDN cases are alike.  
Ultra Slim, Ultra Protective Design
Featuring a slim, lightweight profile that flushes right to your iPhone or Galaxy Galaxy, our wooden cases stay true to your Phone's sleek design while keeping our promise of protection with a polycarbonate impact-resistant bumper.
Sure Grip Surface
Stop worrying about your phone slipping through your fingers. Our slim wooden case comes equipped with our specialty Sure Grip surface, keeping your phone in the palm of your hand no matter the conditions.
MagSafe Compatible Version Available
WUDN now offers MagSafe compatible versions of all our cases, including this one. Visit the
MagSafe Page
for more info.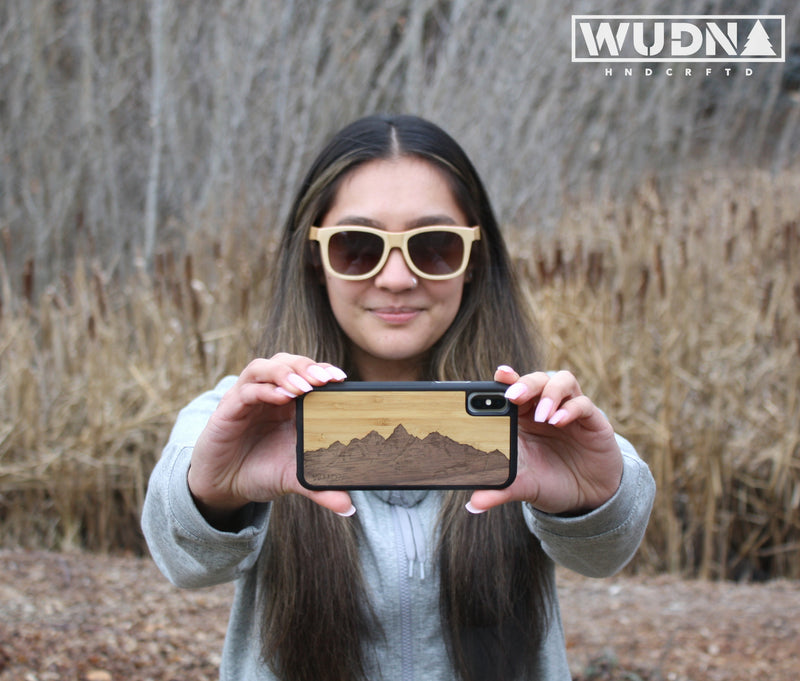 Natural Wood Finish
We apply one light layer of polyurethane to our wood products, before they are laser cut, engraved, cleaned and packaged for you. No additional chemicals or treatments are added. Your wood is left in (as close to) a natural state as possible. Unlike plastic or even glass, your wood product will get better looking with age. Every scratch, scuff and dent will add character and uniqueness. (If you came to WUDN looking for Piano Finish Lacquer, you're in the wrong place).
If you need to clean your wood product, just wipe down with a damp cloth. Something stickier? Use a mild soap (hand soap works well) or rubbing alcohol (spray it on the cloth first). If you want to accelerate the aging process, rub in some bees wax (my favorite) or Linseed, tung, refined hemp, soy, or walnut oil, all penetrate, harden and preserve wood.
More about: Cleaning & Caring for Your Wooden iPhone Case in the Age of COVID-19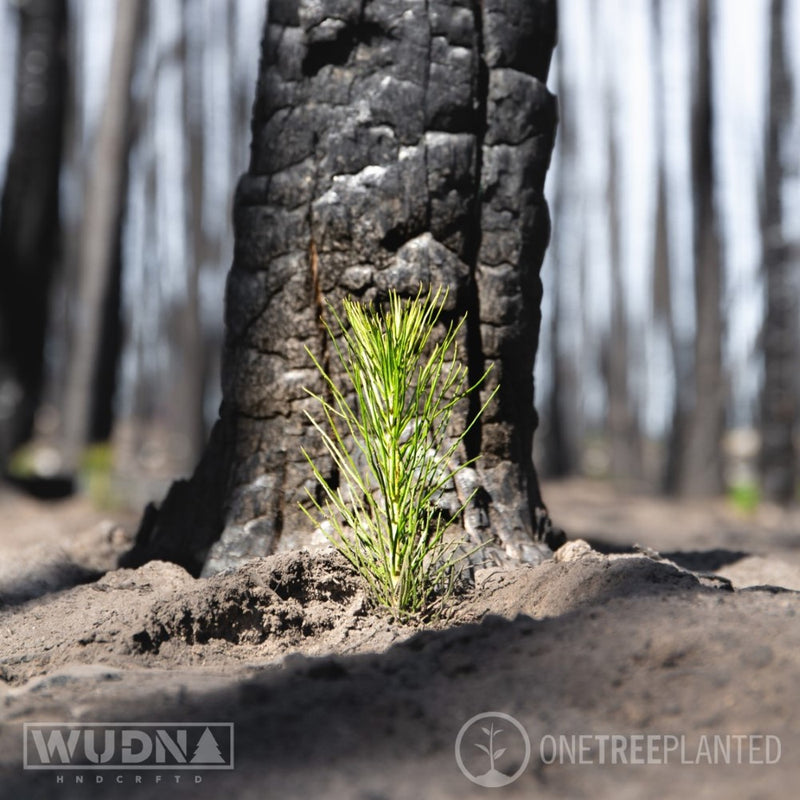 Why Do We Plant Trees
Trees clean our air, give us shade, and provide us with delicious food.. Every day, a 40 foot tree absorbs 50 gallons of dissolved nutrients from the soil, pumps this mixture to it's topmost leaves, converts it into 10 pounds of carbohydrates and releases about 60 cubic feet of pure oxygen into the air. One tree does this, every single day. For every tree that's sustainably harvested for our products we will plant a tree, 1 for 1. You can plant another tree for just $1. Choose from the
United States
,
Canada
,
Protect the Orca
or
Read Some Stories
.
Customer Reviews
100
reviewers would recommend this product
Write a Review
Ask a Question
Filter Reviews:
Wudn
case
friends
wife
MagSafe
Sawtooths
peaks
indication
anything
mountain ranges
07/27/2023
DAVID H.

United States
I recommend this product
Beautiful case!
This is actually our second WUDN case. My wife used one on her XS for several years and it still looks like new, wears very well. We just purchased the same basic case for her 12 pro, and no complaints. This one has magsafe built in.
06/30/2023
Anonymous

United States
I recommend this product
Love Wudn - don't wait - just do it
Beautiful case - recommended to all my friends & family. Durable and always getting compliments. Customer service is beyond amazing - simply the best experience I have ever had!
02/16/2023
Joshua B.

United States
I recommend this product
Cooler Than I Expected!
I was surprised at how difficult it was to find a case like this. I could only find two companies that had anything with this level of quality that were also specific to western mountain ranges, and the other site was completely sold out with no indication of when they'd restock. WUDN exceeded my expectations; the case looks and feels great. Now I just need to bag some peaks in the Sawtooths.
10/14/2022
christopher N.

United States
I recommend this product
Second phone case
Love this phone case. Just got another one to fit my new phone. Gave my old one to my son and he loves it just as much. Great product.
04/28/2022
Brian W.

United States
I recommend this product
Fantasmic
While I haven't had the case for very long, I'm very happy with it. I hope to see that it holds up down the road but until then I'll enjoy the compliments!
Is the phone case covered in real wood?
Yes, every case is covered in real wood, hand selected by our team for beauty and uniqueness. Wood options for most all of our cases include Mahogany, Black Walnut, Carmalized Bamboo, Aromatic Cedar, Purple Heart or Shimmering (aka Curly) Maple.
How well will this case fit my phone?
The slim-case fits your iPhone or Samsung Galaxy Case perfectly. No blockage of the camera port. Sure grip textured sides to enhance your grip and easy access to all ports and buttons.
Does the phone case protect my screen?
Yes, our slim-cases have a slightly raised lip around the front edge to prevent your phone screen from touching surfaces when placed facedown. Of course, you should always add a glass screen protector.
Can I still use Qi wireless charging with this phone case?
Yes, WUDN slim cases do not interfere with Qi wireless charging. Just be sure to center the Qi receiver in the middle of your charging pad. WUDN offers several Qi Fast Wireless Chargers to match your phone case.
Does the phone case protect my camera?
Yes, the phone camera is recessed behind the camera cutout. Although the camera is not covered, because that would result in potato quality photos, the camera should be safe from typical drops.
Will a case protect the resale value of my phone?
Yes, keeping your phone in excellent condition goes a long way towards maintaining high resale and trade-in value. You should keep your iPhone in a case at all times - and always add a real glass (not plastic screen protector). As iPhones and Samsung Galaxy phones get more expensive, the resale and trade-in value has been going up as well. For $25 now, you could add several hundred dollars to the value of your phone when it's time to upgrade.
Will I need a dongle for my headphones?
No, the WUDN slim wooden cases come with a properly sized cutout for the headphone port (on iPhone 6 models) and lightning port on all other iPhone models. You will NOT need a dongle for your headphones.
Can the WUDN case be used with magnetic car and wall mounts?
WUDN cases do not come with a steel plate built in. We are looking to add that feature in the future. In the meantime, we know of many customers that have added a steel plate inside their WUDN case with great results. Just search Amazon for '4-pack of metal plates', they are designed exactly for this purpose.
Should I buy more than one wooden phone case?
Yes, of course. We have a number of phone case designs from cool artistic skulls to the 'Sawtooth Mountains Traveler', and most of our cases are available in different wood types and wood species. You should have a couple of cases, at least, to change your style to match the moment. Monday through Fridays in the office call for a simple, conservative case, and Friday nights in the club call for something with a bit more style.
Will my wood phone case get stained and ugly?
It could, but unlike plastic and other synthetic materials, our wood cases actually get better looking over time. We ship our cases with only one light layer of polyurethane (to protect from UV damage). This means the case will age and the more you use it, the more the wood will look authentic and vintage. Some artisans actually use coffee to stain wood in beautiful mocha hues. (make sure your phone is out of the case when you decide to drop it in your coffee).
Can I customize or personalize my phone case?
Of course, all WUDN phone cases are customizable with your image, artwork and / or text. The process is simple: find your image or logo (in black and white - jpg format) and send it to us. Pretty straightforward. We will get to work on design and production right away. You can also customize or personalize a matching Qi wireless charger, journal/planner, mousepad or flask. How cool to have a personalized wooden phone case and a set of matching wood accessories.
What is TPU and why do I care?
Thermoplastic Urethane - An eco-friendly hybrid material, TPU is a mixture between hard plastic and soft silicone. A very dense and smooth rubber, TPU cases are made to slide in and out of the pocket easily, without attracting lint. TPU cases are more durable, slightly elastic and much stronger than silicone. WUDN uses TPU case templates which are then covered by real wood.