Real Zebra Wood Browline Style RetroShade Sunglasses by WUDN
customers are viewing this product

Hybrid Zebra Wood Browline Sunglasses
Combining eco-friendly acetate browline styled frames with all-natural zebra wood temples, our Hybrid browline sunglasses are the perfect blend of classic and modern design. Thanks to the unique, zigzag woodgrain pattern of the zebra wood, each pair of these wooden sunglasses are one-of-a-kind – offering a signature style statement that's as unique as its wearer
FEATURES
1

Handmade, cut, and crafted from locally sourced zebra wood materials and eco-friendly bio-acetate browline-inspired frames

2

Industry-leading CR39 polarized lenses for unrivaled clarity in the brightest conditions

3

Super durable, ultra-flexible design thanks to stainless steel spring loaded hinges

4

Comes with Cylindrical Bamboo Carrying Case & Micro-Fiber Travel Pouch
Unrivaled Clarity
Fitted with high-quality polarized lenses, the hybrid zebra wood browline sunglasses offer complete UVA/UVB protection while the anti-glare, scratch resistant coating keeps your vision crystal clear in even the brightest conditions.
A Modern Approach to a Timeless Classic
Combining the modern aesthetics of locally sourced zebra wood with the classic browline design, every pair of our Hybrid browline shades is the perfect blend of past and present.
Ultra-Durable Design that's Built to Last
Dual reinforced stainless steel spring-loaded hinges make every pair of our wooden sunglasses built to last while providing you with the perfect fit.
Note: WHOLESALE orders do NOT include Bamboo Cylinder Packaging. Sunglasses are shipped with lens protector, microfiber bag and ziplock outer bag.
Customer Reviews
Write a Review
Ask a Question
Filter Reviews:
price
browline
sun glasses
clarity
pairs
wanderer styles
husband
Wudn
08/18/2023
Jeri M.

United States
I recommend this product
Great sunglasses —well made, fashionable and affordable
Love WUDN sunglasses. My husband and I own multiple pairs, including browline and wanderer styles. Great clarity and well made. Best sun glasses we have had for the price!
06/22/2023
Lincoln M.

Canada
I recommend this product
Love them
The quality of the glasses is top notch. The level of consistency and detail is amazing. So much I bought a second pair after receiving the first pair.
05/28/2023
James K.

United States
I recommend this product
Beautiful
I bought the glasses for my wife for our 5th wedding anniversary. When these arrived I was extremely pleased. They look better that they did online. The fit is perfect and they are very light weight. I would easily buy a pair of my own. Wonderful experience and shipping was very fast. Perfect for someone in your life that loves sunglasses.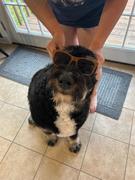 05/25/2023
Anonymous

United States
I recommend this product
Love these glasses
My wife bought a pair of these while we were in Napa one weekend. When we got back to Ohio, she lost them and was devastated. She was so happy when I found them online! I don't think she'll ever wear another brand of sunglasses again
05/04/2023
Anonymous

United States
I recommend this product
Love Wudna
Love my sunglasses ️!
Are the sunglasses really made of wood?
Yes, every pair of WUDN wood sunglasses are made from real wood including Bamboo, Walnut and Zebrawood.
Are the glasses one size fits all?
Yes, WUDN sunglasses are one size fits all. Some of our glasses are larger than others. For instance, the skateboard glasses run a bit larger, but all glasses come with screws vs pins, so they can be loosed or tightened slightly.
Are the glasses Ray-Ban?
WUDN sunglasses are not Ray-Ban's, although we do stick to the classic wayfarer and clubmaster style both in terms of the size and the design.
Should I worry about rain? How waterproof are these glasses?
The glasses are water resistant. Just dry them off after they get wet.
Should I get a matching wood phone case?
Of course. Your new wooden sunglasses would look fantastic with a matching bamboo phone case for your iPhone or Samsung Galaxy phone.
Are the lenses polarized?
Yes, every pair of WUDN wood sunglasses comes with polarized lenses. All of our natural wooden sunglasses are fitted with industry-leading CR-39 polarized lenses. That's 100% UVA/UVB protection, superior scratch resistant and anti-glare coatings for crystal clear vision in even the brightest conditions.
Are polarized lenses helpful and should I pay more for them?
If you spend most of your time outdoors, on the road, on the golf course, fishing, hunting, on the water or in the mountains, polarized lenses are worth every penny.
Can I take them to my optometrist and have the lenses changed to prescription lenses?
On some models including our bamboo glasses, you can. But it would be at the optometrists discretion on whether or not to take install the new lenses. WUDN Sunglasses are a personal item; and not under warranty except for first 24 hours after delivery, if delivered damaged. WUDN will not cover glasses taken to optometrist at all.
Are the lenses plastic or glass?
The lenses are impact resistant polycarbonate lenses, block 100% of UV rays and have anti-glare features.
Are replacement lenses available?
No, the glasses are typically one piece and don't come with a replacement lens option.
Does the bamboo cylinder case come with the glasses?
Yes, the bamboo cylinder comes with the glasses. People love the case and often use it for other purposes.
Do the glasses come with a micro-fiber carry bag that doubles as a lens cleaner?
Yes. And what a perfectly formed question.