Classic Aviator Hybrid Acetate Frame Sunglasses with Real Wood Inlay & Polarized Lenses by WUDN
customers are viewing this product

Classic Aviator Hybrid Acetate Frame Sunglasses
Classic Aviator Hybrid Acetate Frame Sunglasses with Real Wood Inlay & Polarized Lenses (W-1711 Series) by WUDN
A modern approach to timeless design, our classic aviator hybrid wood sunglasses combine real wood with eco-friendly bio-acetate classic frames, for a pair of shades that will put you on the cutting edge of wooden style.
FEATURES
Real ebony, walnut, beech or zebra wood temples and eco-friendly bio-acetate classic frames

Scratch-resistant, TAC, UV-400, 100% UV protection polycarbonate lenses
Stainless steel flex hinges for superior comfort and durability
Comes with Cylindrical Bamboo Carrying Case & Micro-Fiber Travel Pouch
Modern Approach to a Timeless Classic: Combining real ebony wood temples with eco-friendly acetate frames, our wooden classic aviator sunglasses offer a modern take on a timeless classic for a signature style that will help you stand out and get noticed.
The Toughest Lenses Around
Our hybrid classic aviator wood sunglasses are fitted with industry-leading TAC, UV400 polarized lenses. That means 100% UVA/UVB protection, superior scratch resistant protection and anti-glare coatings for unrivaled clarity in the brightest conditions.

Tri Acetate Cellulose (TAC) polarized lenses feature a new lens technology formulated for superior visual and polarization clarity. They have a scratch coating and block 100% harmful UV rays up to 400 nanometers. These lenses are very lightweight and highly impact resistant.

Super Durable, Super Flexible & Super Comfortable Design
Thanks to the stainless steel flex hinges, our wooden sunglasses are built to last. The flex-hinges provide the perfect fit for any head size, making them so comfortable that you might forget you're wearing them.
Note: WHOLESALE orders do NOT include Bamboo Cylinder Packaging. Sunglasses are shipped with lens protector, microfiber bag and ziplock outer bag.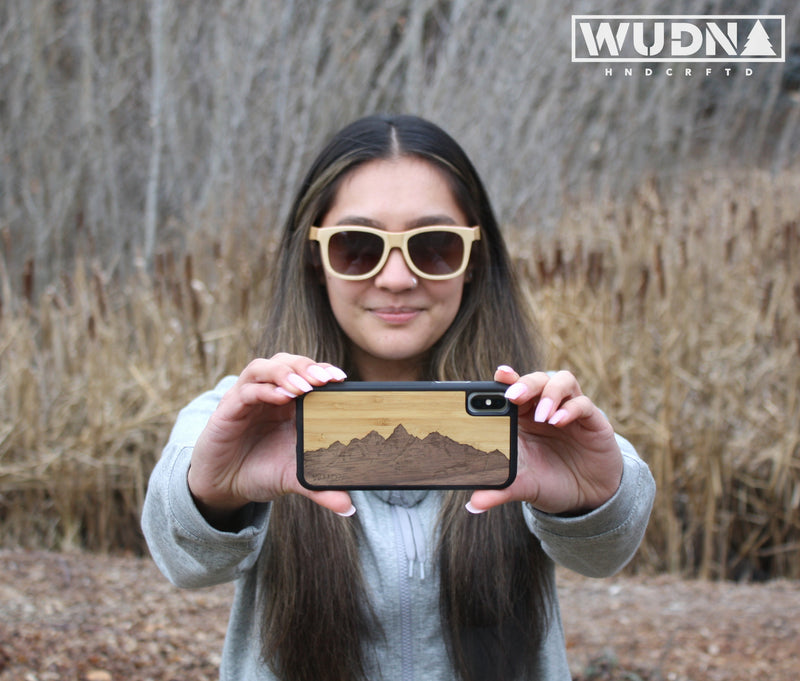 Natural Wood Finish
We apply one light layer of polyurethane to our wood products, before they are laser cut, engraved, cleaned and packaged for you. No additional chemicals or treatments are added. Your wood is left in (as close to) a natural state as possible. Unlike plastic or even glass, your wood product will get better looking with age. Every scratch, scuff and dent will add character and uniqueness. (If you came to WUDN looking for Piano Finish Lacquer, you're in the wrong place).
If you need to clean your wood product, just wipe down with a damp cloth. Something stickier? Use a mild soap (hand soap works well) or rubbing alcohol (spray it on the cloth first). If you want to accelerate the aging process, rub in some bees wax (my favorite) or Linseed, tung, refined hemp, soy, or walnut oil, all penetrate, harden and preserve wood.
More about: Cleaning & Caring for Your Wooden iPhone Case in the Age of COVID-19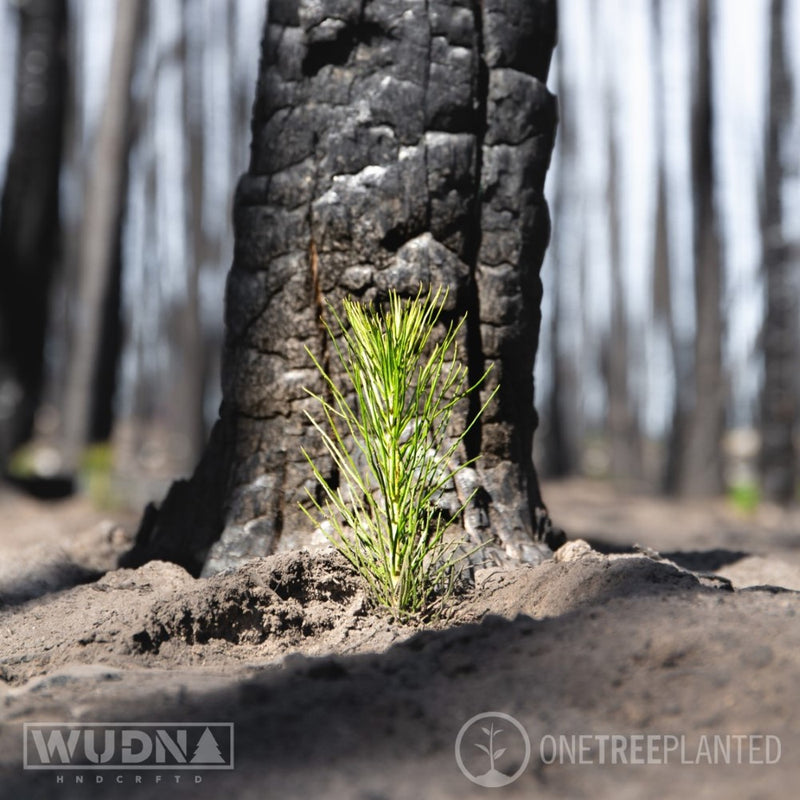 Why Do We Plant Trees
Trees clean our air, give us shade, and provide us with delicious food.. Every day, a 40 foot tree absorbs 50 gallons of dissolved nutrients from the soil, pumps this mixture to it's topmost leaves, converts it into 10 pounds of carbohydrates and releases about 60 cubic feet of pure oxygen into the air. One tree does this, every single day. For every tree that's sustainably harvested for our products we will plant a tree, 1 for 1. You can plant another tree for just $1. Choose from the
United States
,
Canada
,
Protect the Orca
or
Read Some Stories
.
Are the sunglasses really made of wood?
Yes, every pair of WUDN wood sunglasses are made from real wood including Bamboo, Walnut and Zebrawood.
Are the glasses one size fits all?
Yes, WUDN sunglasses are one size fits all. Some of our glasses are larger than others. For instance, the skateboard glasses run a bit larger, but all glasses come with screws vs pins, so they can be loosed or tightened slightly.
Are the glasses Ray-Ban?
WUDN sunglasses are not Ray-Ban's, although we do stick to the classic wayfarer and clubmaster style both in terms of the size and the design.
Should I worry about rain? How waterproof are these glasses?
The glasses are water resistant. Just dry them off after they get wet.
Should I get a matching wood phone case?
Of course. Your new wooden sunglasses would look fantastic with a matching bamboo phone case for your iPhone or Samsung Galaxy phone.
Are the lenses polarized?
Yes, every pair of WUDN wood sunglasses comes with polarized lenses. All of our natural wooden sunglasses are fitted with industry-leading CR-39 polarized lenses. That's 100% UVA/UVB protection, superior scratch resistant and anti-glare coatings for crystal clear vision in even the brightest conditions.
Are polarized lenses helpful and should I pay more for them?
If you spend most of your time outdoors, on the road, on the golf course, fishing, hunting, on the water or in the mountains, polarized lenses are worth every penny.
Can I take them to my optometrist and have the lenses changed to prescription lenses?
On some models including our bamboo glasses, you can. But it would be at the optometrists discretion on whether or not to take install the new lenses. WUDN Sunglasses are a personal item; and not under warranty except for first 24 hours after delivery, if delivered damaged. WUDN will not cover glasses taken to optometrist at all.
Are the lenses plastic or glass?
The lenses are impact resistant polycarbonate lenses, block 100% of UV rays and have anti-glare features.
Are replacement lenses available?
No, the glasses are typically one piece and don't come with a replacement lens option.
Does the bamboo cylinder case come with the glasses?
Yes, the bamboo cylinder comes with the glasses. People love the case and often use it for other purposes.
Do the glasses come with a micro-fiber carry bag that doubles as a lens cleaner?
Yes. And what a perfectly formed question.