Slim-Dual Wooden Power Bank (American Flag)
customers are viewing this product

Wooden Power Banks & Chargers
Laser-Engraved American Flag in Real Hardwood
Ultra-Slim Dual Wooden Portable Power Bank
100% Real Wood. 100 % Real Power. Say goodbye to low battery warnings and never worry about your devices dying again with WUDN's portable power bank. Our Ultra Slim Portable Power Bank is outfitted with the best in charging technology – leaving you with the quickest, lightest and best looking charger on the market. The turbocharged lithium ion battery provides plenty of extra juice for all of your favorite electronic devices, and sharing is caring thanks to our dual charge technology that allows you to charge up to two devices at the same time! What are you waiting for? Never be caught without battery life again thanks to the WUDN Ultra Slim Portable Power Bank.
Powerbank Features
Turbocharged 4000 mAh lithium-ion battery encased in a high-quality anodized aluminum shell

Beautifully crafted, expertly customized real hardwood exterior

Temperature resistant design means your portable power bank is ready for any adventure

Ultra-slim profile with built-in charging cables for iPhone (Lightning) and Samsung Galaxy (USB-C) & many older models with a standard USB-A Cable Port 

Rapid recharge technology for the fastest charging capability on the market

 
The Perfect Blend of Nature & Technology
Who said technology has to look so high-tech? Our power banks are encased by beautifully crafted, expertly customized 100% real, locally-sourced hardwood from right in our own backyard. Available in Mahogany, Black Walnut, Aromatic Cedar, Carmelized Bamboo, American Cherry, Purple Heart or Shimmering Maple wood finish.
High-Capacity, 4000 mAh Turbocharged Lithium-Ion Battery
With a 4000 mAh charging capacity (almost 2 complete iPhone 13 charges), our lithium-ion battery more than doubles your battery life. That means twice the web browsing, twice the videos, twice the gaming, twice the streaming and twice the adventure.
Big Power 
Comes in Small Packages
Say goodbye to bulky battery packs. The ultra-slim profile of our wooden power bank is a game changer in the world of portable power banks, putting massive amounts of power into your pocket, between your books or in your backpack or suitcase. No matter how you use it, our ultra slim power bank is the ultimate travel accessory to help you stay charged.
Built-in Retractable Charging Cables
Equipped with retractable Apple Lighting, and USB-C cables, our portable power bank is able to charge almost every smartphone and electronic device on the market. No matter if you're team iPhone, Android or something else entirely, your wooden portable power bank will turbocharge any electronic device you throw its way.
3.4 oz. without packaging and 4.1 oz. with packaging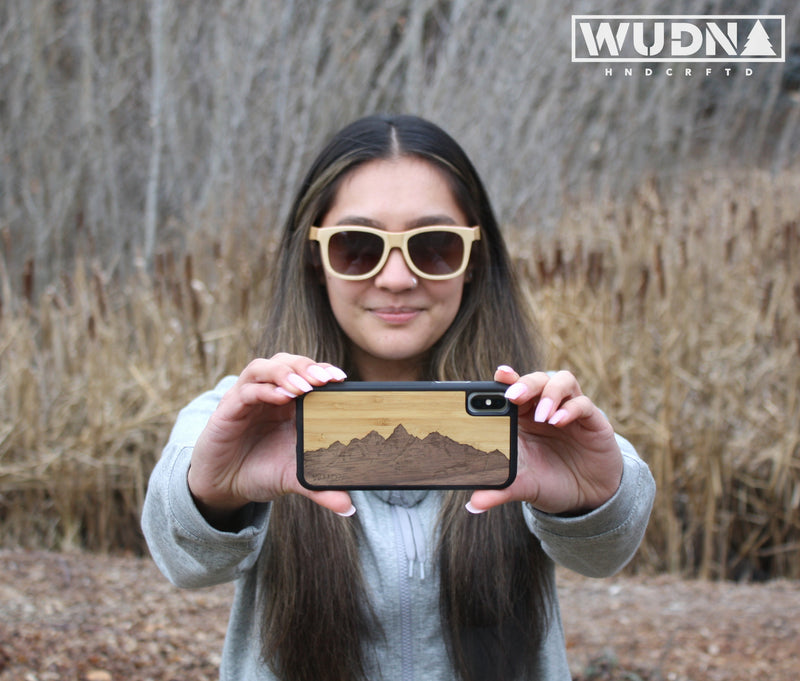 Natural Wood Finish
We apply one light layer of polyurethane to our wood products, before they are laser cut, engraved, cleaned and packaged for you. No additional chemicals or treatments are added. Your wood is left in (as close to) a natural state as possible. Unlike plastic or even glass, your wood product will get better looking with age. Every scratch, scuff and dent will add character and uniqueness. (If you came to WUDN looking for Piano Finish Lacquer, you're in the wrong place).
If you need to clean your wood product, just wipe down with a damp cloth. Something stickier? Use a mild soap (hand soap works well) or rubbing alcohol (spray it on the cloth first). If you want to accelerate the aging process, rub in some bees wax (my favorite) or Linseed, tung, refined hemp, soy, or walnut oil, all penetrate, harden and preserve wood.
More about: Cleaning & Caring for Your Wooden iPhone Case in the Age of COVID-19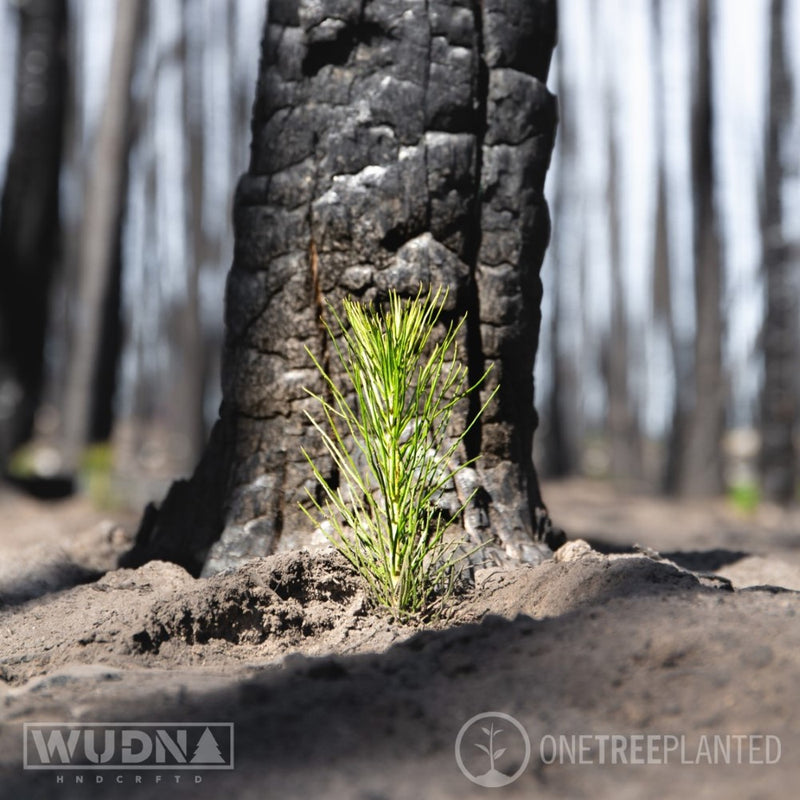 Why Do We Plant Trees
Trees clean our air, give us shade, and provide us with delicious food.. Every day, a 40 foot tree absorbs 50 gallons of dissolved nutrients from the soil, pumps this mixture to it's topmost leaves, converts it into 10 pounds of carbohydrates and releases about 60 cubic feet of pure oxygen into the air. One tree does this, every single day. For every tree that's sustainably harvested for our products we will plant a tree, 1 for 1. You can plant another tree for just $1. Choose from the
United States
,
Canada
,
Protect the Orca
or
Read Some Stories
.
Customer Reviews
Write a Review
Ask a Question
05/29/2022
Thomas J.

United States
Raw Power
This powerbank is beautiful. The engraved American Flag is gorgeous, and it charges my iPhone 13 almost 2X from 20%. I will continue buying WUDN products.
Cameron, hurry up and finish the FAQ