Wallet RNGR - Wooden Phone Wallet & Ring Phone Holder
customers are viewing this product

The Wallet RNGR™ is a small, simple, yet beautiful, metal ring phone holder and stand. Perfect for ditching a full wallet, the Wallet RNGR attaches to your phone and holds a few credit cards and a bit of cash. Handmade in Hidden Springs, Idaho, USA. We locally source our wood from FSC certified sustainable forests. 1.2 x 1.2 inches, weight 1.5 oz, packaged weight 1.6 oz.
Wallet RNGR Features
Phone Wallet with Phone Holder & Stand Combination 

The Wallet RNGR combines the best of a phone wallet, with the functionality of a ring phone holder

Holds 2-3 cards with room for some cash

Made with eco-friendly leatherette & FSC Certified sustainable wood

Steel Construction works flawlessly with magnetic car mounts
Strong 3M adhesive
Design Adds less than 1 oz. weight & 6 mm thickness.
Ships from USA to to US & International addresses
Durable steel construction - lightweight but satisfyingly heavy    
All WUDN woods are locally sourced and hand selected by our team for superior quality, strength and style.

Black
Walnut

Mahogany

Carmalized
Bamboo

Aromatic
Cedar

Purple
Heart

Shimmering
Maple
Flexible & Comfortable
The Wallet RNGR is the highest quality and most flexible phone ring holder and stand you can buy. With 360 degree rotation for a comfortable fit in your hand at any angle. And, 180 degree of angle for the stand function offering the perfect viewing angle for whatever you are watching. 
Super Durable Design
The Wallet RNGR is small and lightweight, but the steel construction is satisfyingly heavy to hold to and use. It has the construction and feel, of real quality, compared to cheap and thin plastic ring holders. Or vinyl phone wallets for that matter. 
Custom Wood Finishing
Don't settle for the same ring holder or popsocket that everyone else has. Stand out from the crowd with a wooden RNGR from WUDN. Each one handmade with real wood, and cut by the WUDN team. So go ahead; show off your style.
Customer Questions and Answers
Is the Wallet 

RNGR 

covered in real wood?

Yes, every Wallet RNGR is covered in real wood. Each wood is hand selected by our team for beauty and uniqueness. Wood options for most all of our wood accessories include Mahogany, Black Walnut, Carmalized Bamboo or Aromatic Cedar.

Can I still use Qi wireless charging?

Depending on the placement of the Wallet RNGR on the back of your phone or case, you may still be able to use Qi wireless charging. We can't guarantee it of course. You should buy one and test it with your specific charger.

Can the Wallet 

RNGR 

be used with magnetic car and wall mounts?

Yes, the RNGR is constructed from steel and then covered in real wood. It will work great with magnetic car or wall mounts.

Will the wood get stained and ugly?

It could, but unlike plastic and other synthetic materials, our wood accessories actually get better looking over time. We ship our products with only one light layer of polyurethane. This means the wood will age and the more you use it, the more the wood will look authentic and vintage. Some artisans actually use coffee to stain wood in beautiful mocha hues.

Should I get matching sunglasses made of wood?

Should I get a matching wooden phone case?

Of course. Who would want a beautiful Aromatic Cedar case and a matching Ringsta with a cedar back.
Our Promise: Your Custom Wooden Wallet RNGR is 100% Certified Sustainable Wood. Trees clean our air, give us shade, and provide us with delicious food. That's why for every tree that gives it's life for our products we will plant one 1 for 1.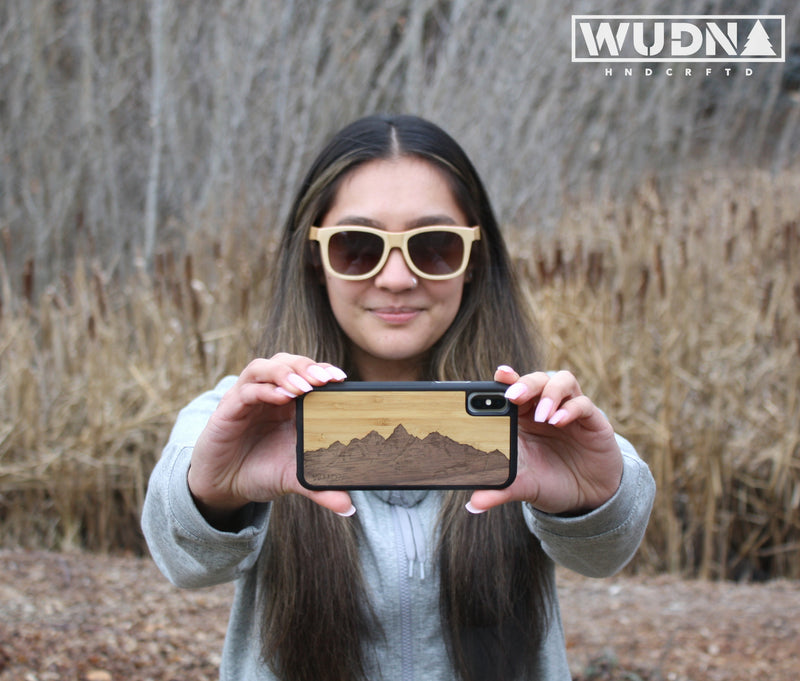 Natural Wood Finish
We apply one light layer of polyurethane to our wood products, before they are laser cut, engraved, cleaned and packaged for you. No additional chemicals or treatments are added. Your wood is left in (as close to) a natural state as possible. Unlike plastic or even glass, your wood product will get better looking with age. Every scratch, scuff and dent will add character and uniqueness. (If you came to WUDN looking for Piano Finish Lacquer, you're in the wrong place).
If you need to clean your wood product, just wipe down with a damp cloth. Something stickier? Use a mild soap (hand soap works well) or rubbing alcohol (spray it on the cloth first). If you want to accelerate the aging process, rub in some bees wax (my favorite) or Linseed, tung, refined hemp, soy, or walnut oil, all penetrate, harden and preserve wood.
More about: Cleaning & Caring for Your Wooden iPhone Case in the Age of COVID-19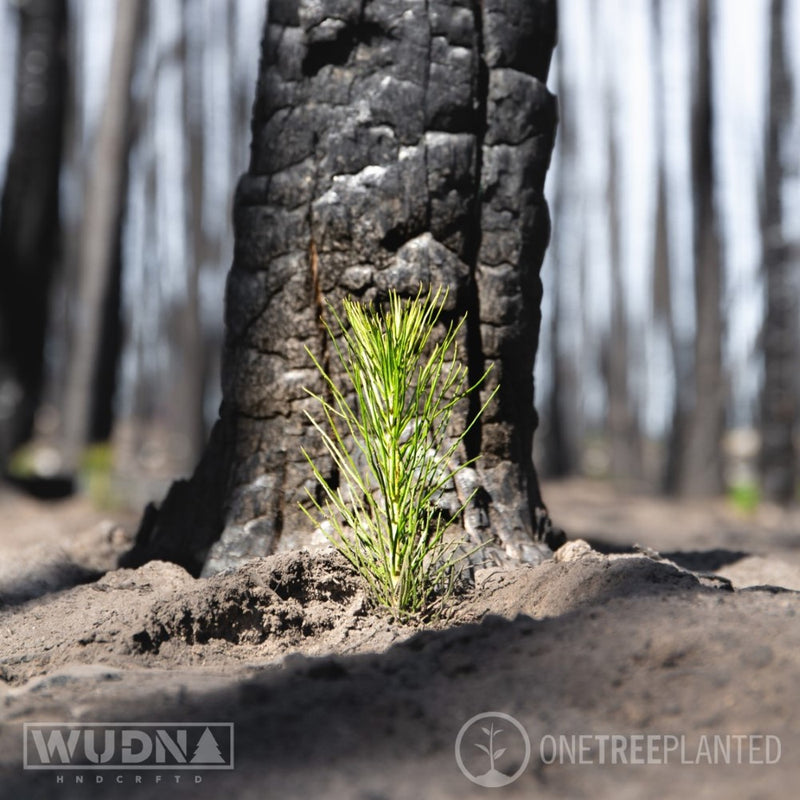 Why Do We Plant Trees
Trees clean our air, give us shade, and provide us with delicious food.. Every day, a 40 foot tree absorbs 50 gallons of dissolved nutrients from the soil, pumps this mixture to it's topmost leaves, converts it into 10 pounds of carbohydrates and releases about 60 cubic feet of pure oxygen into the air. One tree does this, every single day. For every tree that's sustainably harvested for our products we will plant a tree, 1 for 1. You can plant another tree for just $1. Choose from the
United States
,
Canada
,
Protect the Orca
or
Read Some Stories
.
Customer Reviews
I searched everywhere for something that would have a wallet with sturdy ring. Everything else out there is cheap looking plastic. When I finally found WUDN I was so happy! I got the Purple Heart color which is a wonderful contrast to my phone which is a pale lavender color. Got the atomic cedar too which is really cool looking for the hubby. It's been two weeks and they are very sturdy so far!
Simple & Awesome
Yep. Works just as described
Love it
Thanks WUDN. Cool product and you guys shipped it same day.
10/10 Would Recommend
Very cool wallet with a phone stand. And I love the real wood, everyone asks me about it.
Great Product
I bought two fo these to match my wooden phone cases. One from WUDN and one from a competitor, TMBRS, I think. Anyway, they look fantastic and match my wood cases.