Oversize Wood Mousepad with 10 watt Qi Wireless Fast Charger
customers are viewing this product

Oversize Wood Mousepad with 10 watt Qi Wireless Fast Charger
Perfect for your home office. Add a touch of elegant wood with the oversize mousepad and integrated Qi wireless fast charger. Fast charging power at your fingertips; never search for another messy cable, your phone will be charged and ready when you are. The oversize mousepad is natural (sustainable) real wood and provides a perfect surface for your old-school rollerball or new optical mouse. Add some functional beauty to your dreary workspace.
The WUDN Wooden Qi Wireless Fast Charging Mouse Pad is thin, beautiful and functional. Delivers Qi fast charge standard at 10 watts for wireless charging to any compatible Qi device including iPhone, Samsung Galaxy, Google Nexus, Motorola Droid, Nokia, HTC, Huawei, LG & More
Qi Fast Charge Standard at 10 watts output power 
Available in American Cherry, Mahogany, Black Walnut, Aromatic Cedar or Caramelized Bamboo
Thinnest Wireless Fast Charging Mousepad Available, only 6.5 mm thick
Wooden Qi Fast Charging Mousepad Features:
FASTEST: WUDN Qi Wireless Fast Charging mousepad supports "Qi Fast Charge Standard" 9-volt 1-amp (10 watt) output, providing much faster charging than 5V chargers. Fast Charge improves charging time by 40%

BEAUTIFUL REAL WOOD - Made with real, sustainably sourced wood; every mousepad will have unique grain and each one will be different

NONSTICK BASE: It will look beautiful, add real functionality, and with our Sure Grip nonstick base, the mousepad will be solid and stable on your desk. 

THINNEST Wireless Fast Charger Available: only 6.5 mm. 

HANDCRAFTED by WUDN in Hidden Springs, Idaho, USA. Unique, handmade, handcrafted, authentic and natural wood finish
Specifications
The WUDN Qi Fast Charger is truly fast. Here are the specs:
Fast charge input: 9.0V, 2.0A -- output: 9.0V, 1.0-1.5A (Max)
Universal input: 5.0V, 1.0-2.0A -- output: 5.0V, 1.0-1.5A (Max)
Transmission distance: < 8mm (works with most phone cases including thick ones)
Size: 12" x 8" x 6.5 (mm) 
Certifications: FCC, RoHS, CE
Packaging and Contents: 1 X QI Wireless Fast Charging Mousepad, 1 X Wireless Charging Cable (Micro USB Port) 3 ft., 1 X Instructions
Trees clean our air, give us shade, and provide us with delicious food.. That's why for every tree that gives it's life for our products we will plant one 1 for 1.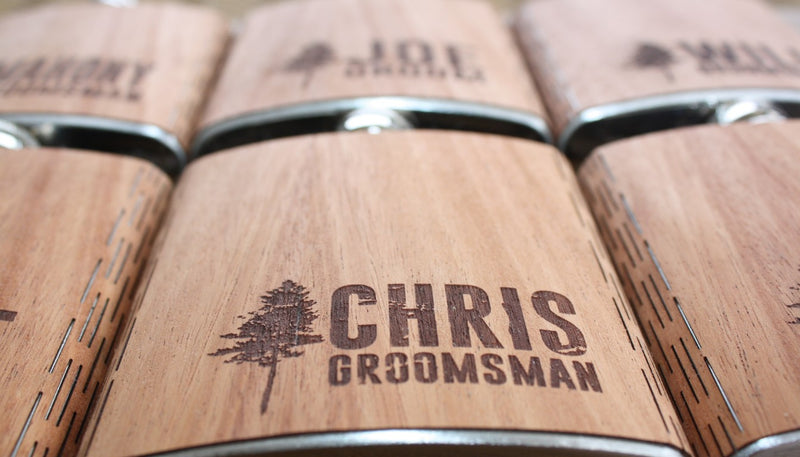 Customize Your Product
How to Personalize Your Custom WUDN product
- No waiting! You'll have access to the design editor right after purchasing.
- No need to download any software. Personalize this item right in your browser or your phone.
1. After purchasing, you will receive an email from Corjl with a link to access and edit your product.
2. Personalize your product with text and / or images, then save or approve the proofs.
3. Once you approve your designs, we will begin processing your order.
Heavier fonts tend to work better for laser engraving, and while black walnut is beautiful, it's also very dark and laser engravings can be difficult to see. The other wood options (Mahogany, Cherry, Bamboo, Cedar, Purple Heart or Maple) tend to display the engravings much more clearly.
Or, you can read our
ULTIMATE GUIDE TO LASER ENGRAVING YOUR CUSTOM PHONE CASE
We snap a quick potato-quality picture of everything coming off the custom production line. Take a look.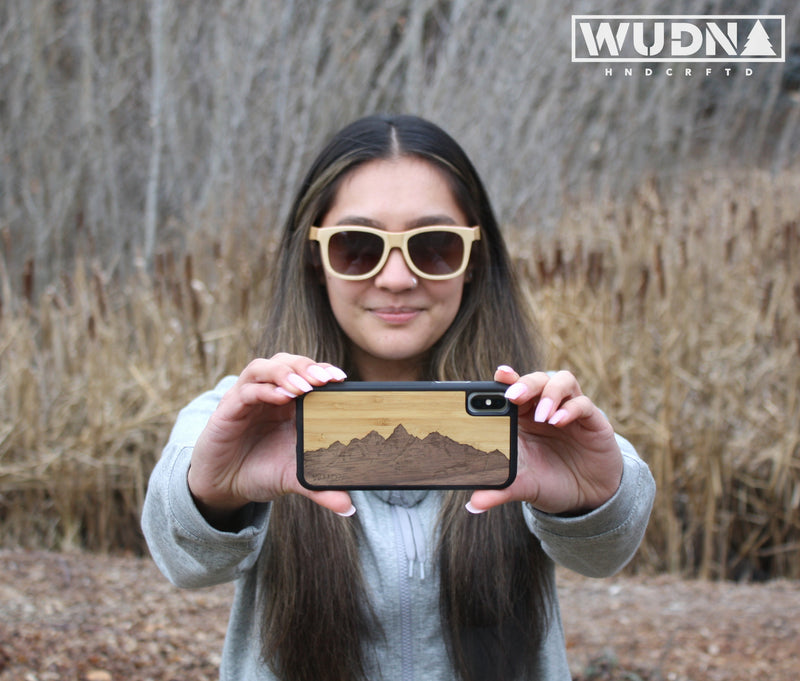 Natural Wood Finish
We apply one light layer of polyurethane to our wood products, before they are laser cut, engraved, cleaned and packaged for you. No additional chemicals or treatments are added. Your wood is left in (as close to) a natural state as possible. Unlike plastic or even glass, your wood product will get better looking with age. Every scratch, scuff and dent will add character and uniqueness. (If you came to WUDN looking for Piano Finish Lacquer, you're in the wrong place).
If you need to clean your wood product, just wipe down with a damp cloth. Something stickier? Use a mild soap (hand soap works well) or rubbing alcohol (spray it on the cloth first). If you want to accelerate the aging process, rub in some bees wax (my favorite) or Linseed, tung, refined hemp, soy, or walnut oil, all penetrate, harden and preserve wood.
More about: Cleaning & Caring for Your Wooden iPhone Case in the Age of COVID-19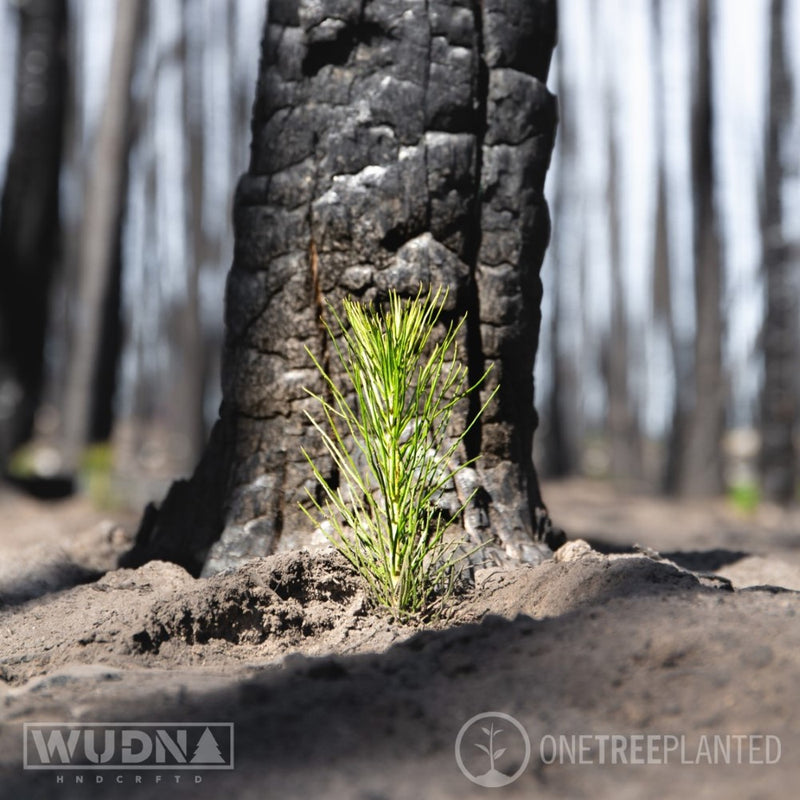 Why Do We Plant Trees
Trees clean our air, give us shade, and provide us with delicious food.. Every day, a 40 foot tree absorbs 50 gallons of dissolved nutrients from the soil, pumps this mixture to it's topmost leaves, converts it into 10 pounds of carbohydrates and releases about 60 cubic feet of pure oxygen into the air. One tree does this, every single day. For every tree that's sustainably harvested for our products we will plant a tree, 1 for 1. You can plant another tree for just $1. Choose from the
United States
,
Canada
,
Protect the Orca
or
Read Some Stories
.
Customer Reviews
01/03/2022
Anonymous

United States
I recommend this product
Excellent product & service
Cameron and team were incredibly helpful and very responsive to my questrions.. Great quality product -logo engraving along with name personalization for each was well done.
12/24/2021
Anonymous

United States
Great Product & Customer Service
This is a gorgeous product that we produced for a client. Cameron was incredibly helpful and very responsive to my questions. The final results were beautiful - thank you. It was a pleasure doing business with you.
This thing is huge
I have a really nice walnut desk in my home office, and I wanted a mousepad to match - something more elegant than black fabric. This mousepad fit the bill perfectly. It's beautiful and totally functional, larger than I expected and charges my iPhone 11 perfectly. These guys hit it out of the park.
My wireless charger doesn't work
Of course, the chargers require a compatible phone. For iPhones, this is model iPhone 8 or newer. And for Samsung Galaxy models S6 or newer.
My wireless charger still doesn't work
Make sure the Qi Charger is plugged into a powerful enough USB wall charger. These are fast chargers and require at least 5 volts / 2 amps. Usually called Quick Charge 2.0 or 3.0. Many older (or cheaper) wall chargers are not powerful enough to properly power the device. Most USB ports on laptops do not provide sufficient power.
My wireless charger won't charge my iPhone 12
Can you turn off the glowing ring light?
Only applies to the circular charger, and No. It doesn't turn off. These are more suitable for the office desk than the night stand.