6 oz Wooden American Flag (Forward Edition) Hip Flask
customers are viewing this product

6 oz Wooden American Flag (Always Forward Edition) Hip Flask
Introducing our newest product: the wooden laser engraved reverse American flag hip flask! We call it the "Always Forward Edition". 
Whether you're relaxing at your in-home bar or on the road, our American Flag Series Flask is a great accessory to compliment all of your favorite beverages. Our American Flag Series is made from 100% real wood locally sourced, cut and crafted right here in the United States.  
Holds 6 oz. of Whiskey, Scotch, Bourbon or Vodka (if you swing that way)
Stainless Steel Body & Hinge

Sustainable Locally Sourced Wood
Handcrafted in Hidden Springs, Idaho, USA
Packed in Reusable Cotton Drawstring Carrying Bag
Made from high-quality wood and featuring a sleek laser engraved design, this hip flask is the perfect accessory for any patriotic occasion. But what sets this flask apart is its unique reverse American flag design.
February 2021

Cameron Christian, Senior Contributor
Owner WUDN and Regular Day Drinker 
Why is the American Flag on our "Forward Edition" Flask, Reversed? 
Traditionally, the American flag is displayed with the stars in the upper left corner and the stripes running horizontally. However, on our hip flask, the flag is reversed, with the stars facing to the right and the stripes running vertically. This creates a visually striking and distinctive look that is sure to turn heads.

But the reversed American flag isn't just for show - it has a special meaning:

The American flag is typically displayed with the stars in the upper left corner (also known as the canton) and the stripes running horizontally. However, when the flag is displayed on a military uniform or vehicle, it is often reversed, with the canton being displayed on the right side instead of the left. This is done so that the flag appears to be "flying" in the wind as the person or vehicle moves forward, instead of the stars indicating a direction of retreat. Instead, always moving forward.

Alternately the reversed American flag is sometimes used to indicate that a military unit is in a state of distress or is in need of help. The reversed flag is a signal of dire circumstances and is typically used only in situations where the unit is facing a life-threatening situation, such as a natural disaster or enemy attack. It is not intended to be a political statement or a sign of disrespect, but rather a way to alert others to the unit's urgent need for assistance.

While not battle tested, the reversed flag serves as a reminder of the bravery and sacrifice of our armed forces -- Always moving forward.

Not only is this hip flask a stylish everyday accessory, but it is also a tribute to the men and women who defend our country. It makes for a thoughtful gift for any military member or patriotic individual.

Show your American pride in a unique and meaningful way, be sure to check out our wooden laser engraved reverse American flag hip flask. It's the perfect addition to your collection.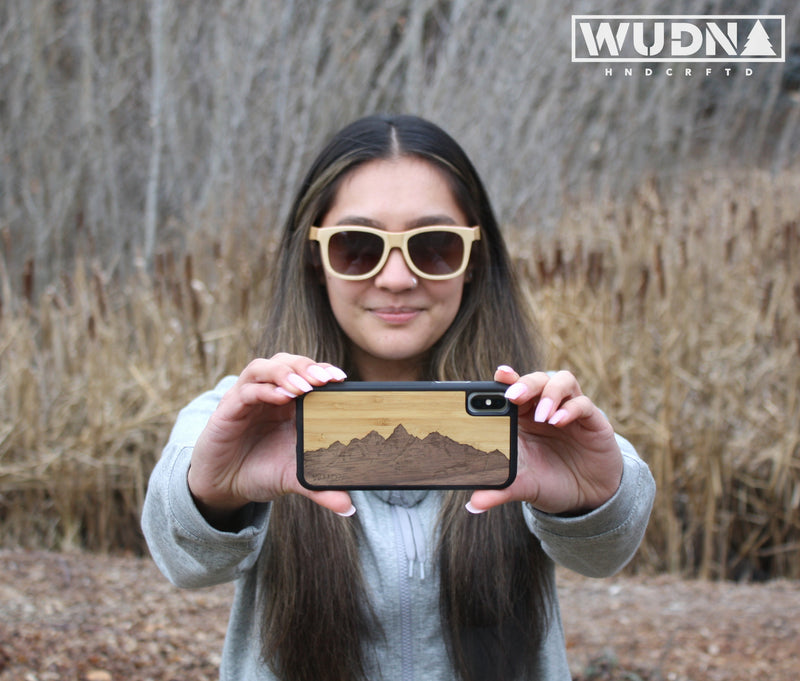 Natural Wood Finish
We apply one light layer of polyurethane to our wood products, before they are laser cut, engraved, cleaned and packaged for you. No additional chemicals or treatments are added. Your wood is left in (as close to) a natural state as possible. Unlike plastic or even glass, your wood product will get better looking with age. Every scratch, scuff and dent will add character and uniqueness. (If you came to WUDN looking for Piano Finish Lacquer, you're in the wrong place).
If you need to clean your wood product, just wipe down with a damp cloth. Something stickier? Use a mild soap (hand soap works well) or rubbing alcohol (spray it on the cloth first). If you want to accelerate the aging process, rub in some bees wax (my favorite) or Linseed, tung, refined hemp, soy, or walnut oil, all penetrate, harden and preserve wood.
More about: Cleaning & Caring for Your Wooden iPhone Case in the Age of COVID-19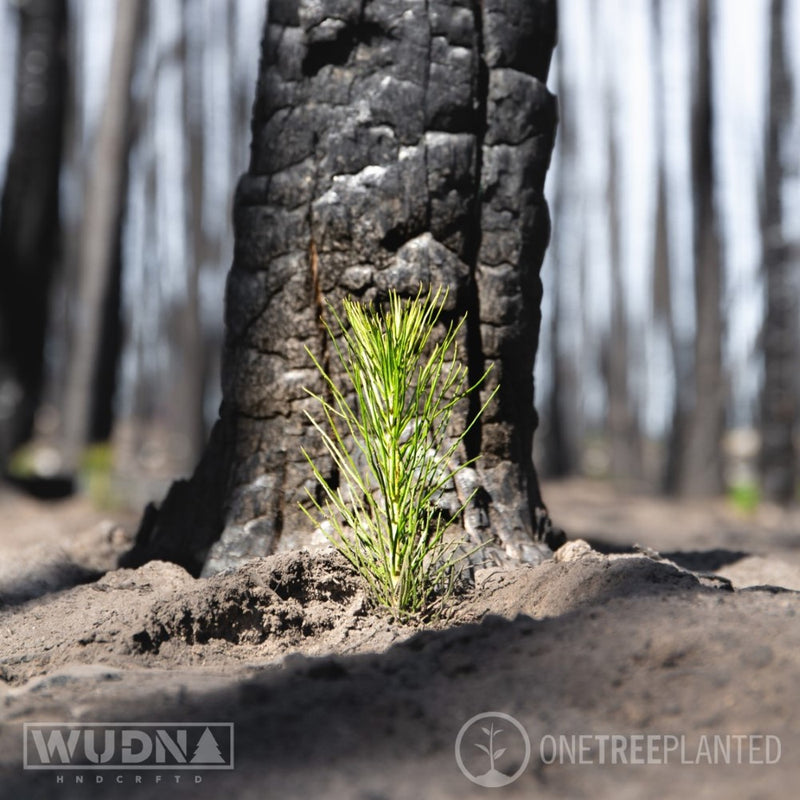 Why Do We Plant Trees
Trees clean our air, give us shade, and provide us with delicious food.. Every day, a 40 foot tree absorbs 50 gallons of dissolved nutrients from the soil, pumps this mixture to it's topmost leaves, converts it into 10 pounds of carbohydrates and releases about 60 cubic feet of pure oxygen into the air. One tree does this, every single day. For every tree that's sustainably harvested for our products we will plant a tree, 1 for 1. You can plant another tree for just $1. Choose from the
United States
,
Canada
,
Protect the Orca
or
Read Some Stories
.
Is my wooden flask covered in real wood?
Yes, the all wooden bar accessories including flasks and bottle openers and more, are covered (on both sides) in real wood, hand selected by our team for beauty and uniqueness. Wood options for most products include Mahogany, Black Walnut, Carmalized Bamboo, Aromatic Cedar, American Cherry, Purple Heart or Shimmering (Curly) Maple.
Will my wood flask get stained and ugly?
It could, but unlike plastic and other synthetic materials, our wood flasks actually get better looking over time. We ship the flasks with only one light layer of polyurethane (to protect from UV damage). This means the case will age and the more you use it, the more the wood will look authentic and vintage. Some artisans actually use coffee to stain wood in beautiful mocha hues.
Do I have to be a man to enjoy a flask?
Of course not. That's some dated misogynistic bullshit. You can be a man or a woman or something in between, none of that matters. What matters is your enjoyment of good whiskey-et al, with good people, and on your terms. That's the whole point of the flask. Yes, words like 'gentleman' are sexist but I can't change how search engines work. Deal with it.
How do I clean my new wooden flask?
Clean the outside first. With the flask closed and sealed, use a damp cloth with a little hand soap to thoroughly wash the outside. Then clean the inside. It's as simple as this: rinse it out with hot water (very Hot Water) when you get home, leave the cap off and let it dry overnight. Never use soap on the inside because you'll never get the residue out of the flask completely, and this will affect the taste of the liquor. If you are changing the type of booze you carry, rinse it out with a little lemon juice and then hot water.
How often should I change the booze in my flask?
Once bottled at the distillery, booze can have quite a long shelf life. However, once you start carrying it around in a flask, you'll bruise it with all the shaking. If you're carrying a flask of booze, you should be drinking the entire thing anyway – we're only talking about 6 or so ounces of liquor. How long you carry it should not be an issue. But how long it will stay fresh is a matter of days, and at the most, a week. Once you fill your flask, you should be able to enjoy its contents in one or two outings without too much effort.